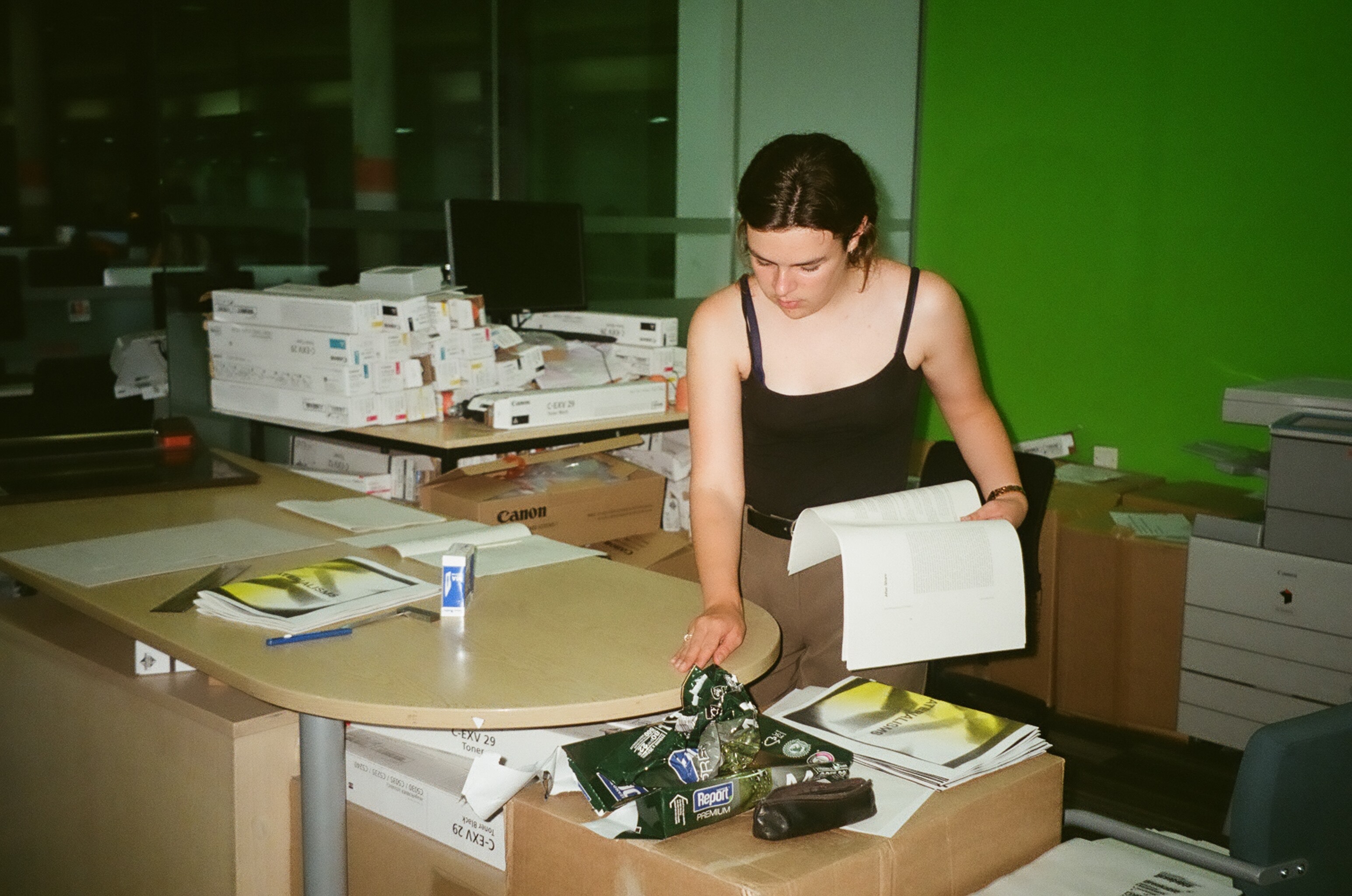 Sophie Paul (she/her, b. 1998) is a designer and writer based across London and Oxfordshire. Working with experimental writing, collaborative publishing and performance, her interests intersect critical theory, trashiness, and eroticisms. She has written for radio and live voice, run writing and zine making workshops and staged interventionist performances at various sites around London, introducing alternative dialogues around the body as sites for interruption and excess.

Her thesis, Notes Towards a Theory for Iridescence uses the qualities of iridescence to propose an affective re-writing of the ways girlhood and iridescence intra-act. This piece was awarded the 2022 RCA Writing Prize.

Alongside Kaiya Waerea, she is one half of Sticky Fingers Publishing, an intra-dependant publisher based in London, publishing experimental feminist, queer, crip, non-fiction.

She is currently a resident at Peripheral Alliances at the Ammersee, a cooperation between Kunstverein München and Euroboden.
Education



MA Writing, Royal College of Art, September 2020 - June 2022


Pass without corrections

RCA MA Writing Prize 2022: How to Live Forever in the Body of a Girl: Notes Towards a Definition for Iridescence

BA Design, Goldsmiths University of London, September 2017-June 2020
First Class Honours

Foundation Diploma in Art and Design, Banbury College, September 2016-June 2017
Distinction

Chenderit Sixth Form, September 2014- June 2016


A levels: English Literature (A*), Fine Art (A), History (B), Applied ICT AS Level (B)





Chenderit School, September 2009- June 2014

12 GCSE's from A*-B, including English Language (A*), Fine Art (A*), Graphic Products (A*), English Language (A), History (A)





Work
Literally-no-pleasure, graphic designer, Matthew Richardson, Lucky (München), 2022
Access consultant, Europa
Royal College of Art Graduate Show 2022

Bookseller, Waterstones Bookshop, 2021-22

ARC Magazine: Proxyerotics, RCA MA Writing student magazine, 2021

Wiped, RCA MA Writing x Export Radio
Work-in-progress radio show, Graphic design & contributor, 2021

Hey, Look, Something Is Happening
Goldsmiths BA Design Degree Show organising commitee
Events and fundraising, publication & launch week, 2019-20

Sticky Fingers Publishing, co-founder & publisher, 2019-Present

Print Assisstant, Oxford Green Print, 2019



Studio Assisstant,

Something and Son, 2019





Creative team, Warner Records UK, 2019





Exhibition Intern,

Print Club London, 2019



Print Collective, DIY Space for London
Facilitator, 2018-19

Post Workers Theatre, Tomorrow's Great Pageant, co-author, 2019

Our House, set designer, Goldsmiths Musical Theatre Society, 2018
Residencies & Alternative Experience
Peripheral Alliances, Residency at the Ammersee, with Kunstverein München and Euroboden, 2022
Another Gaze Critics Workshop, Open City Documentary Film Festival, 2021
How To Begin, led by Louise Olwin, 2021



Talks and Workshops

It Will All End in Tears: Writing Rage with Sticky Fingers Publishing, Figs in Wigs Calm Down Dear: Camden People's Theatre, 2022

Sticky Fingers Publishing Theory and Practice, MA Graphic Design Communication, Camberwell UAL, 2022

Work is a Verb: Zine making workshop with Sticky Fingers Publishing, We Are Superfluous: Bodies of Work, 2021

Postmodern Rom-Com, Re-Writing Workshops, 2020

The Anti-Tour, alternative tour of the Natural History Museum archives, developed with The Natural History Museum, co-designer and facilitator, 2019
Writing

Symbio.Scenes: Michelle O'Higgins and Alex Scobie at Cafe Babette, Deptford Culture Review, 2022

Food Diary, Fortified Gazette, 2022

My Mother, Mitochondrion, Wild Stone, a journal with RCA Sculpture Students and Poor House Reading Rooms, 2022
Held in private and public collections including Poor House Reading Rooms, Van Gough House London, and Tate Archive.

BODYMOVIEMACHINE, ARC Magazine: Proxyerotics, 2021.

BOMB Retrospective: Cookie Mueller Revisited by Sticky Fingers Publishing, BOMB Magazine, Sticky Fingers Publishing, 2021

Night Slugs, The Pluralist, 2021

Treatise on Mould, Ending, Stopping, Closing: Scrawl Society, 2020

The Unrealiseable, We Are Superfluous,
Contributing Writer/reviewist for Marta Company, 2020



Exhibitions

Moments of Clarity, Lucky (München), 2022

I'M BORED OF READING I WANT REVENGE, Lunchtime Gallery (Glasgow) 2022 (Sticky Fingers Publishing)

Hey, Look, Something Is Happening, Goldsmiths BA Design Graduate Degree Show, heylooksomethingishappening.com, 2020, (online)

Great Unrecorded History | Art Show, University of Birmingham Gender and Sexuality Liberation Associations, MAC Birmingham, 2019
Sound
Just Speak Nearby, featured partnership with Pitt Rivers Museum, Audiowork, 2021

Sticky Fingers in Your Ears: HORIZONS,
Montez Radio
, Sticky Fingers Publishing and Rose Higham-Stainton, Spring 2021

Scrawl Sound, Ending, Stopping Closing,
Extract from Treatise on Mould, Export Radio, Winter 2020

Sticky Fingers In Your Ears x Scrawl
, Export Radio, Winter 2020

Publishing

Pagemasters Print Fair, South London Gallery, 2022

Artist Self Publishing Fair 7, 2022

Miss Read Berlin, 2022

Montez Press x Babeworld, Interjection Calendar 7 launch and performance night, 2022

Feminist Library Winter Fayre, 2021

Eight Things, independently self-published, 2021

Collective Ending Printed Matter Fair, 2021

Circus Artspace Zine Fair, 2021


Glasgow Zine Fest, Spring 2021

Dead Lovers
, 2020-Present



Artist Self Publishing Fair 6, 2020

Sticky Fingers Monthly Mailouts, Summer 2020-Present

FDBNHLLLTTFPublications, 2019-Present
Hey, Look, Something Is Happening, Goldsmiths BA Design Degree Show Publication, 2020
heylooksomethingishappening.com


Artist Self Publishing Fair 5, 2019

Food & Fear, self-published with
Marta Company
, 2019 - 20

DIY Space for London Zine Fair, 2019

Non-Bed and The Night Slugs, self-published, 2019
︎ sophieanna15@gmail.com

︎ @theunofficialsoupdragon